HERE'S THE WHEEL PROCESS. TOP RIGHT CLOCKWISE. PRIMER,COLOR BASE COAT, 2ND COLOR CENTER, 2ND COLOR RIM, CLEARCOAT.
INSTALL THE VOICE BOX ON ALREADY PAINTED HANDLE ASSEMBLY. HERE I HAD A SLIGHT PROBLEM, THE NEW BOX IS JUST A LITTLE BIT LARGER THAN THE ORIGINAL AND ALSO HAD A LIP THAT EXTRUDED AN ADDITIONAL 1/8". ALTHOUGH IT ISN'T VERY MUCH, WHEN THE COVER IS ON THE BOX RUBS THE COVER AND JAMS THE MOVEMENT. I EVENTUALLY TOOK THE BOX BACK OFF AND REMOVED THE LIP ON THE SIDE THAT FACED THE COVER.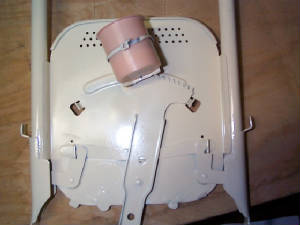 THE TIN STRAP THAT HOLDS THE BOX IN WOULDN'T TIGHTEN UP ENOUGH SO I REPLACED IT WITH A NYLON TIESTRAP.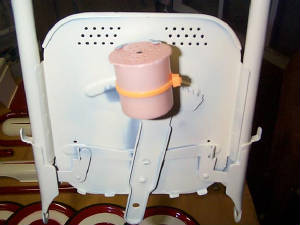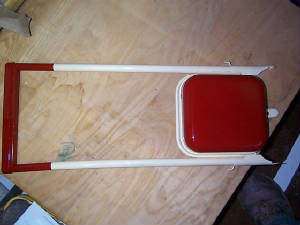 HERE IS THE HANDLE WITH THE COVER ON.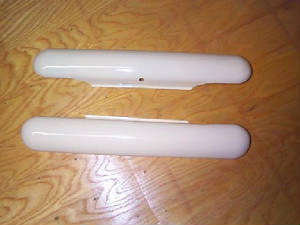 AFTER THE PAINT ON THE ARMRESTS DRY I'LL STENCIL THE RED TRIM ON.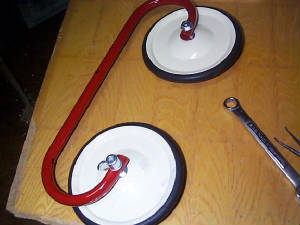 ASSEMBLE TWO WHEELS TO A RAIL.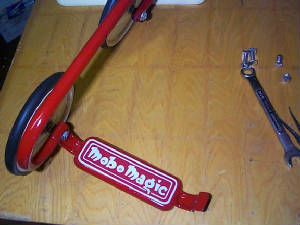 ADD THE FOOTREST.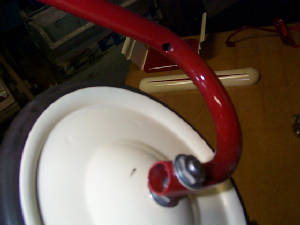 NOTE THE HOLE IN THE WHEEL RAIL, THIS GOES TOWARDS THE REAR AND ATTACHES TO A PRONG ON THE HANDLE. BOTH RAILS HAVE THIS.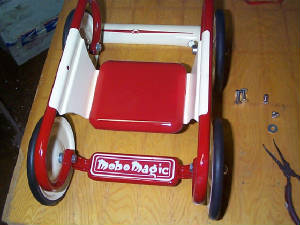 NEXT, INSTALL THE SEAT BOTTOM AND THE SECOND WHEELK RAIL
NOW THE HANDLE AND ARMRESTS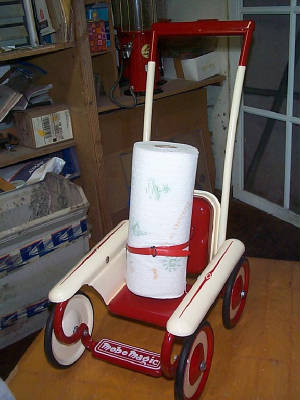 I DIDN'T HAVE A BABYDOLL SO I USED A ROLL OF PAPER TOWELS TO TEST THE MECHANICS.
OOPS, LOOKS TO ME LIKE I FAILED TO FINISH THIS PROJECTS ARTICLE. WATCH THIS SPOT, AS SOON AS I LOCATE THE FINAL PICTURES I WILL FINISH THIS OFF.