WHAT DO I NEED FOR PART 2?
1)BALL PEEN HAMMER (SMALL)
2)RUBBER SANDING BLOCK
3)220 AND 400 WET/DRY SANDPAPER
4)WIRE WHEEL
5)FILE OR GRINDER
6)A FRIEND THAT DOES BEAD BLASTING (PREFERED BUT NOT MANDATORY)
7) IF PATIENCE IS NOT ONE OF YOUR VIRTUES THEN GET A QUART OF BONDO, A PLASTIC SPREADER AND SOME 80 GRIT SANDPAPER.
8)OTHER ITEMS AS MENTIONED IN TEXT.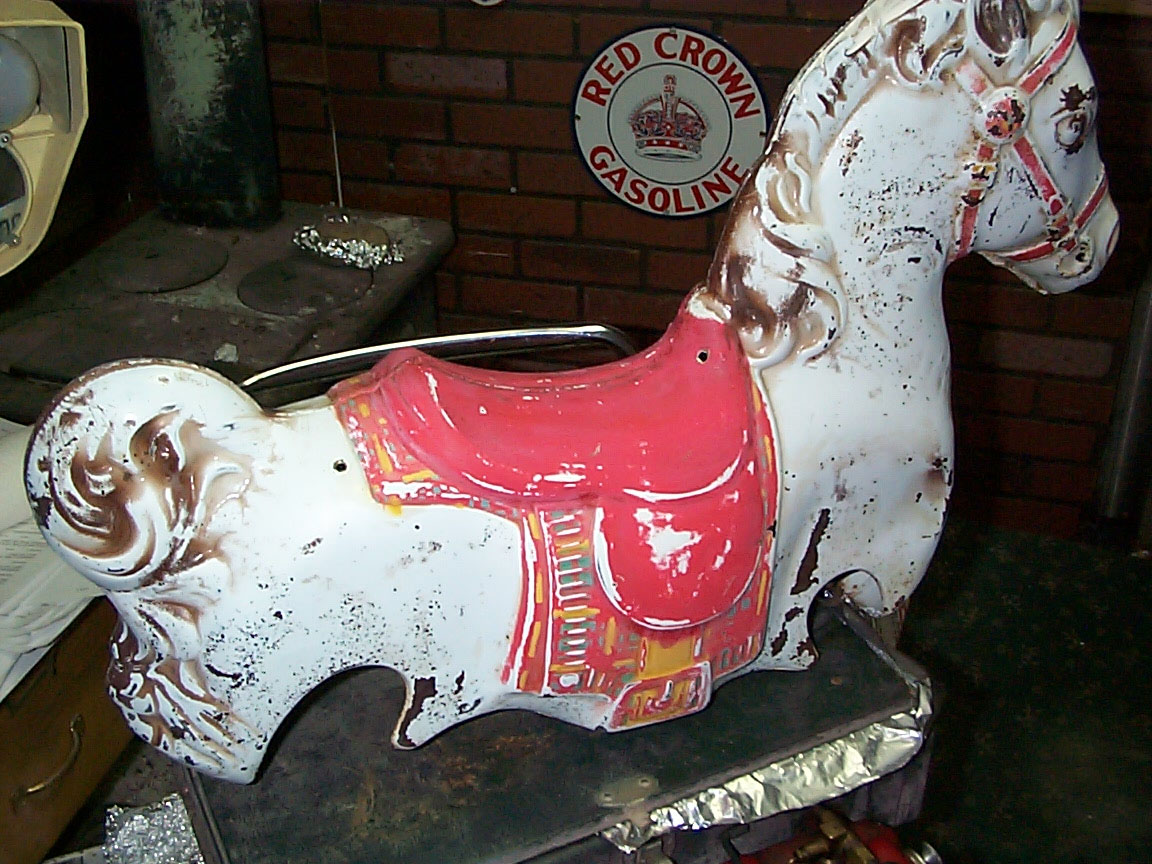 IF YOU DECIDE TO SAVE A FEW BUCKS AND HAND SAND IT, USE 220 WET AND SAND EVERY SQUARE INCH OF IT UNTIL THERE ARE NO SHINY SPOTS LEFT IN THE PAINT, DONT TRY TO FEATHER EDGE ALL THE NICKS ETC OUT OF IT AT THIS TIME. IF IT LOOKS LIKE THE PICTURE ITS GOOD ENOUGH.
NOW THEN, WHETHER YOU HAD IT BLASTED OR STRIPPED OR HAND SANDED, YOU SHOULD HAVE A PRETTY GOOD IDEA WHERE ALL THE DINGS ARE SO GET YOUR BALL PEEN OUT AND START BUMPING OUT THE DINGS. IT WOULD BE BEST TO HAVE A DOLLY OR SOME OTHER HARD OBJECT TO HOLD AGAINST THE OPPOSITE SIDE OF THE DING WHILE YOU HAMMER ON IT. DO IT JUST ENOUGH TO BRING IT LEVEL YOU SHOULD BE ABLE TO FEEL THE DIFFERENCE IN THE LEVEL OF THE SURROUNDING METAL. NOW GET YOUR FILE AND FILE IT A BIT. YOU SHOULD NOW BE ABLE TO SEE WHERE THE METAL IS HIGH OR LOW. GET YOUR HAMMER GOING AGAIN AND REPEAT UNTIL EVERYTHING IS LEVEL. THIS TAKES SOME TIME AND YOULL GET FASTER AT IT THE MORE THAT YOU DO. IF YOU GET BURNT OUT ON IT, MIX UP SOME BONDO AND FILL IT IN. DONT FILL ANYTHING THAT IS DEEPER THAN 1/8 ". MAKE SURE THE SURFACE IS ROUGH BEFFORE APPLYING ANY FILLER. LET IT HARDEN THEN EITHER FILE IT OR TAKE SOME 80 GRIT PAPER ON THE RUBBER SANDING BLOCK AND SAND AWAY UNTIL LEVEL. IF YOU FIND THIS TO BE A PROBLEM, RUN IT DOWN TO THE LOCAL BODYSHOP AND HAVE THEM TAKE CARE OF IT. IF ITS NOT REAL BEAT IT WONT COST MUCH AND IF BUSSINESS IS SLOW YOU MIGHT GET IT BACK IN ACOUPLE OF WEEKS. ASSUMING NOW THAT YOUVE GOT IT SANDED OR BLASTED AND THE DENTS AND DINGS OUT, SPRAY IT WITH THE SANDABLE PRIMER. GIVE IT SEVERAL COATS, LET EACH COAT DRY BEFORE GIVING IT ANOTHER. YOU WANT TO GIVE IT ENOUGH OF A BUILD UP TO FILL ALL THE SANDING SCRATCES AND CHIPS ETC.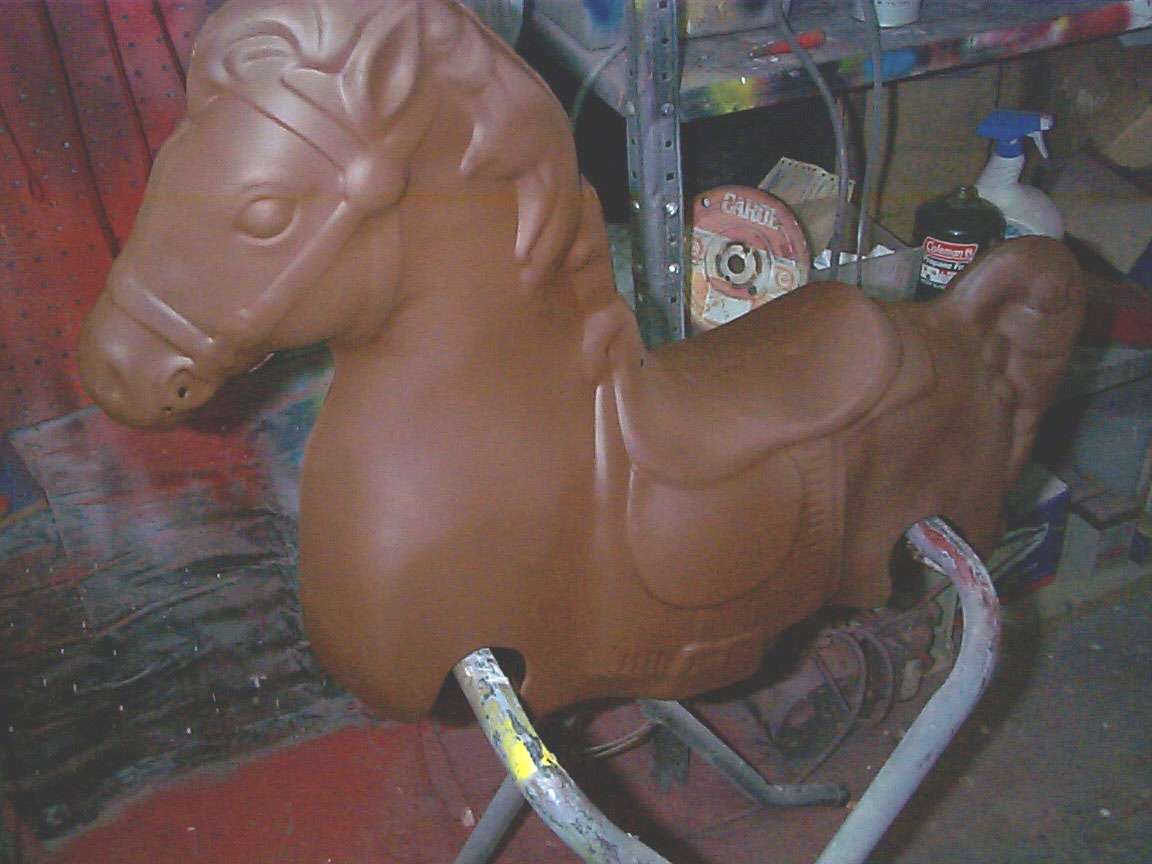 ONCE YOUVE GOT IT IN PRIMER YOU WILL UNDOUBTEDLY SEE THAT THERE ARE STILL SOME SMALL DINGS ETC. YOU CAN KEEP HITTING IT WITH COATS OF PRIMER OR GET SOME GLAZING PUTTY FROM YOUR LOCAL PARTS STORE. I USE EITHER NITRO-STAN RED OR BONDO BRAND RED. GET A SMALL RUBBER GLAZING SPREADER AND COVER THE AREAS THAT NEED IT. BLOCK SAND WITH WET DRY 220 WET. WHEN EVERYTHING LOOKS LEVEL, RINSE IT OFF AND PRIME IT AGAIN.
HOPEFULLY YOUVE GOT ALL THE LITTLE IMPERFECTIONS REMOVED THIS TIME, LOOK IT OVER REAL GOOD AND IF YOURE SATISFIED MOVE ONTO PART 3. IF NOT, REPEAT THE PREVIOUS STEPS UNTIL YOU ARE SATISFIED.