OK, GET THE STENCIL AND START IN THE LOWER LEFT CORNER ON THE LEFT SIDE.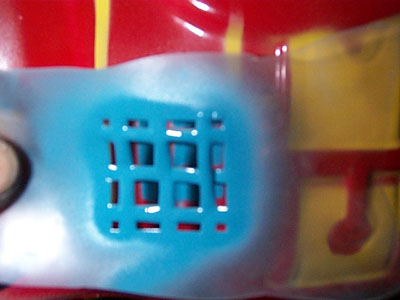 THEN GO TO THE LOWER RIGHT ON THE LEFT SIDE, GIVE EACH SECTION ABOUT 10 MINUTES TO SET UP AND THEN SPRAY AN AJACENT SQUARE UNTIL YOU'RE DONE. LET EVERYTHING DRY 24 HOURS.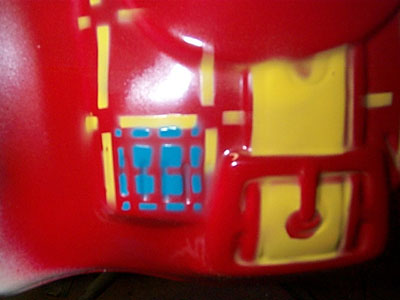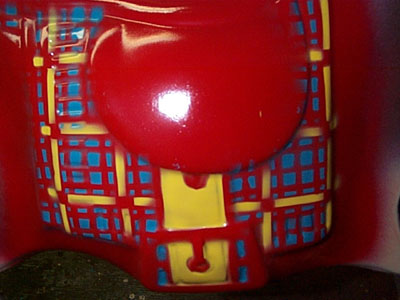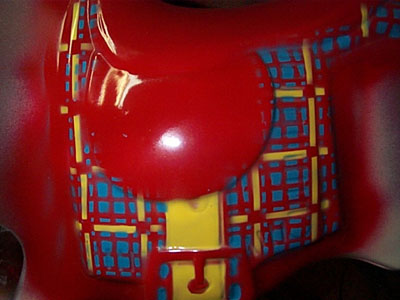 NOW, GET THE CLOTH AND ZIPPO FLUID OUT AGAIN AND WIPE IT DOWN TO REMOVE ANY LIGHT OVERSPRAY. WHEN YOU HAVE IT CLEAN, GET THE RED PAINT INTO THE AIRBRUSH AND TOUCH UP ANY MAJOR OVERSPRAY OR OTHER IMPERFECTIONS.
THIS NEXT STEP ISNT NECCESSARY BUT IN CASE OF MASKING LEAKAGE IN THE NEXT STEP IT WILL SAVE A LITTLE BIT OF WORK. GET THE CLEAR PAINT AND SPRAY TWO OR THREE LIGHT, EVEN COATS ONTO THE SADDLE AND SADDLE BLANKET. IF YOU GET MASKING LEAKAGE IN THE NEXT STEP YOU WILL BE ABLE TO SAND THE LEAKAGE OFF WITHOUT REMOVING THE COLOR COAT. LET EVERYTHING DRY UP 24 HOURS AGAIN AND MOVE ONTO STEP 8.