AS I HAVE SAID BEFORE, I DON'T REALLY LIKE USING COMMERCIAL PAINT STRIPPER DUE TO THE RESIDUE THAT IT TENDS TO LEAVE BEHIND, SO I USED MY FAVORITE, CASTROL SUPER CLEAN DEGREASER. THIS IS A POTENT DEGREASER THAT WITH PATIENCE IT WILL REMOVE MOST PAINT WITH A MINIMAL AMOUNT OF EFFORT.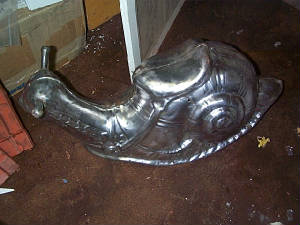 I USED ABOUT A QUART OF DEGREASER APPLIED THREE TIMES. BETWEEN EACH TIME I SCRUBBED IT WITH A STIFF WIRE BRUSH AND RINSED WITH HOT WATER. I LET IT SIT ABOUT 30 MINUTES BETWEEN COATS. IT EASILY REMOVED 95% OF THE OLD PAINT. THE SPOTS THAT DIDN'T COME OFF I USED A WIRE WHEEL ON A 4.5" ANGLE GRINDER.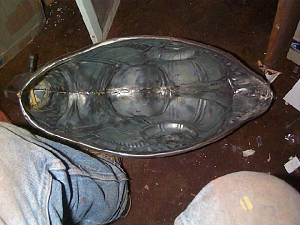 THE UNDERSIDE PAINT WAS HARDER TO REMOVE WITH DEGREASER SO I ONLY SOAKED IT ONCE AND THEN USED THE WIRE WHEEL. THE WHEEL REMOVED IT EASILY IN ABOUT 20 MINUTES.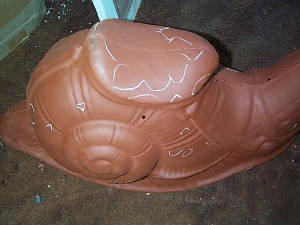 NEXT STEP WAS TO GIVE IT A COAT OF PRIMER, BOTH SIDES. AFTER THE PRIMER DRIED I LOOKED IT OVER TO LOCATE ALL THE DINGS AND THEN I MARKED THEM ALL WITH CHALK.
THE DINGS WERE ALL VERY SMALL.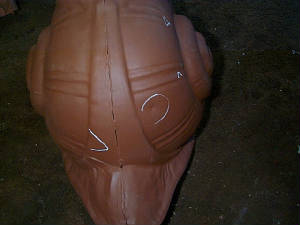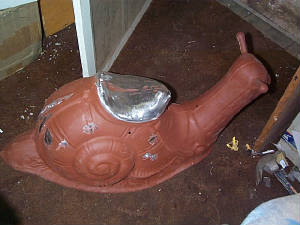 THERE WERE NO MAJOR DENTS OR DINGS SO I TAPPED THEM OUT USING A BALL PEEN HAMMER. I ALWAYS BRING THEM OUT SLIGHTLY HIGHER THAN NECCESSARY SO WHEN I USE THE GRINDER THE METAL WILL COME OUT FLAT. THAT WAS THE CASE HERE, NOW, SINCE NO FILLER IS REQUIRED I'LL APPLY ANOTHER COAT OF PRIMER AND FINISH THE PREPERATION TO PAINT. GO TO NEXT PAGE.