AFTER ITS MASKED, I LIKE TO SCUFF THE REMAINING OFF WITH A 3M PAD, THIS WILL CLEAN OFF OVERSPRAY AND PROMOTE BETTER ADHESION OF THE FINAL WHITE COAT. AFTER THAT I WIPE IT DOWN WITH A TACK RAG.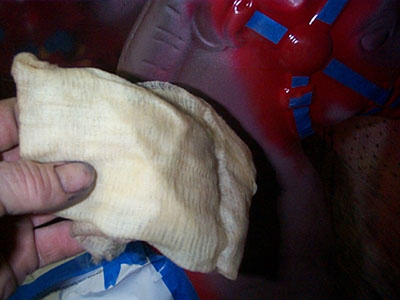 AFTER TACK RAGGING IT'S READY TO PAINT, SPRAY SEVERAL LIGHT COATS RATHER THAN A FEW HEAVY COATS. LOOK IT OVER REAL WELL TO BE SURE IT IS COMPLETELY COVERED THEN SPRAY AN ADDITIONAL TWO LIGHT COATS.
GET THE CIRCULAR CONCHO TEMPLATE AND TAPE IT DOWN TO THE HEAD. MAKE SURE IT IS WELL ATTACHED BECAUSE IT WILL BE THERE FOR A WHILE. USING THE AIRBRUSH, PUT A COUPLE OF COATS OF RED ON.
LET THE RED SET UP FOR AT LEAST 30 MINUTES. GET THE YELLOW CONCHO TEMPLATE AND CAREFULLY AIRBRUSH IN THE YELLOW.
NOW LET THE YELLOW DRY UP FOR AT LEAST 20 MINUTES.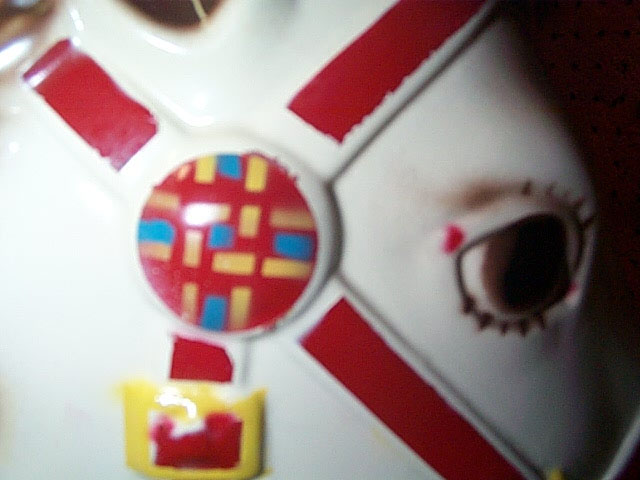 REMOVE THE MASKING TAPE ON THE BRIDAL AND LOAD UP YOUR AIRBRUSH WITH YELLOW AGAIN. USE THE BUCKLE TEMPLATE AND SPRAY THE YELLOW BUCKLES. ALSO DO THE OTHER YELLOW PARTS OF THE BRIDAL. NOW LOAD UP ON BROWN AND PROCEED TO PART 9.