SAND THE BRONCO FOR THE FINAL TIME USING 600 GRIT WET DRY. DO IT WET. TRY NOT TO SAND THROUGH THE PRIMER. ALL YOU WANT TO DO IS GET THE SURFACE SMOOTH SO THE PAINT WILL STICK AND THERE WONT BE ANY BUMPS OR DIRT ETC. . IF YOU HAVENT DONE ANYTHING TO THE INSIDE OF THE BODY, NOW IS AS GOOD A TIME AS ANY. IF THE PAINT IS OK JUST ROUGH IT UP A BIT , IF ITS FLAKING, WIRE BRUSH IT, SAND WITH 220 WET/DRY, PRIME AND SAND WITH 400 WET DRY. IF THERE IS RUST GET SOME METAL PREP AT YOUR PAINT SUPPLY DEALER, ABOUT 10.00 FOR A 2 QT. BOTTLE OR GET THE SAME STUFF THAT HASNT BEEN DILUTED (PURE MURIATIC ACID) FROM YOUR LOCAL POOL SUPPLY DEALER FOR ABOUT 3.00 A GALLON. USE THIS STUFF CAREFULLY, IT WILL BURN YOU VERY EASILY, USE RUBBER GLOVES AND EYE PROTECTION. I USUALLY POUR A SMALL AMOUNT ON THE PIECE AND MOVE IT AROUND WITH A CHEAP PAINT BRUSH.
IT ONLY TAKES A COUPLE OF MINUTES THEN RINSE IT OFF. METAL SHOULD NOW LOOK NEW. REPEAT IF NECCESSARY.
NOW WASH THE ENTIRE UNIT OFF WITH SOAP AND WATER, RINSE AND LET IT DRY COMPLETELY. WHEN ITS DRY, LOOK IT OVER AND PUT A REAL LIGHT COAT OF PRIMER ANYWHERE YOU HAVE SANDED THROUGH THE PRIMER TO BARE METAL.
IF YOU HAVENT ALLREADY DONE SO, GET THE LEGS AND FOLLOW THE SAME PROCESS ON THEM. WHEN YOU HAVE EVERYTHING IN PRIMER AND READY TO PAINT MOVE ONTO STEP 4 AND CUT SOME STENCILS.
UPDATE: I HAVE DISCOVERED A WONDERFUL INVENTION, A SANDING SPONGE. AVAILABLE FROM
www.harborfreight.com
YOU CAN GET A PACK OF 24 (12 MEDIUM GRIT AND 12 FINE GRIT) FOR AROUND $5.00. THESE ARE GREAT AND WILL SAVE HOURS OF TIME DURING PREP.
HERES A RUSTY LEG BEFORE METAL PREP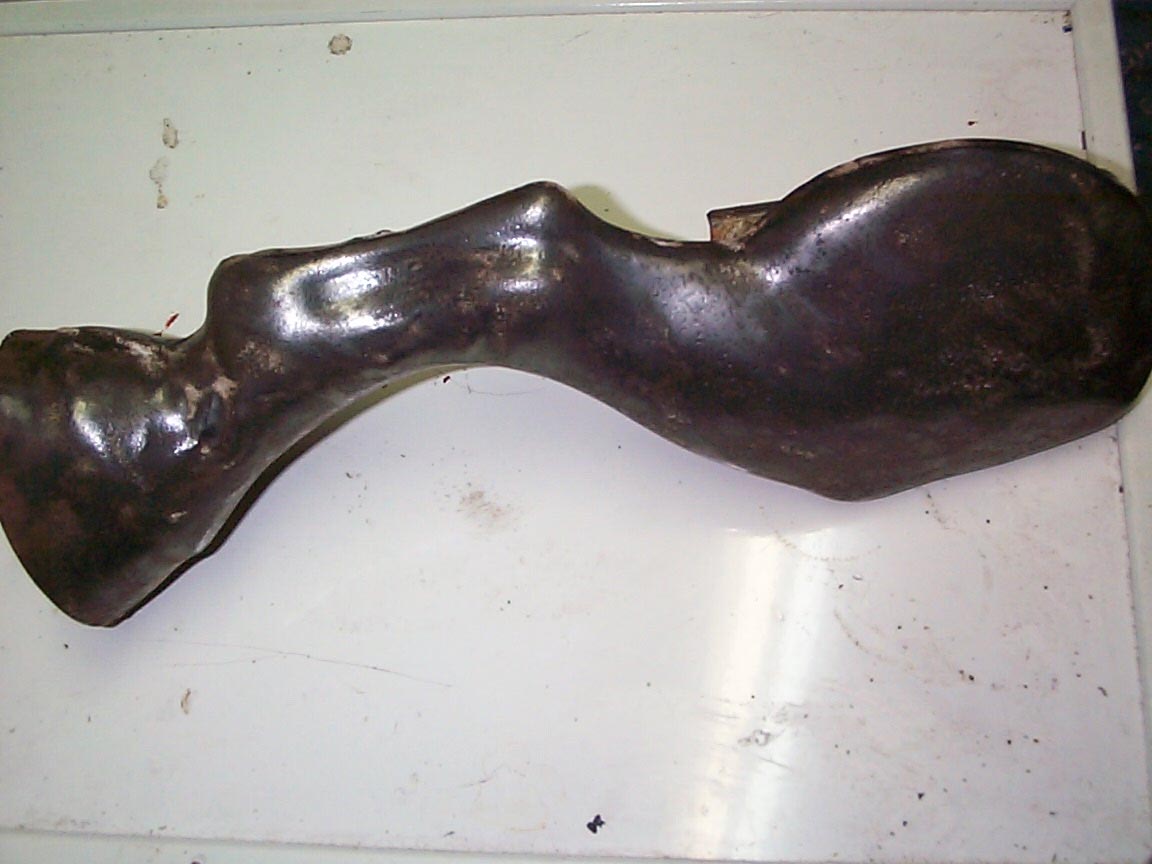 HERE IT IS AFTER METAL PREP