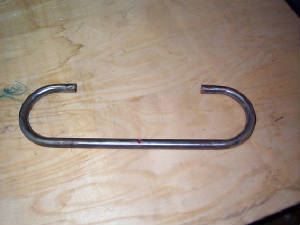 REMOVE ALL OF THE OLD PAINT. I SOAKED EVERYTHING IN ATANK OF DEGREASER WHICH REMOVEDABOUT 60% OF THE PAINT. I USED A WIREWHEEL ON THE REST.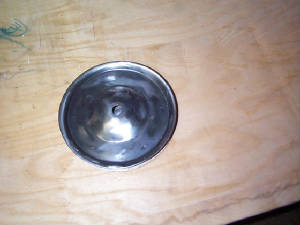 AFTER I REMOVED THE PAINT FROM THE WHEELS I REPAIRED THETWO BAD WHEELS BY WELDING IN NEW BUSHINGS.
HERE YOU CAN SEE THE NEW BUSHING STICKING UP ABOUT A QUARTER OFAN INCH.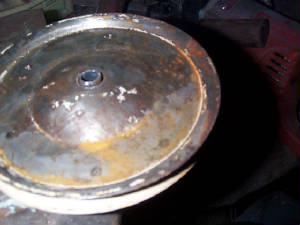 HERE IT IS AFTER WELDING. AFTER ITCOOLED I GROUND IT FLUSH WITH THE WHEEL.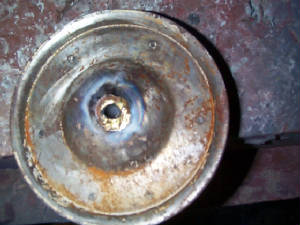 PRIME THE BARE METAL PARTS.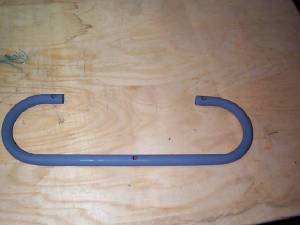 HERE IS THE MISSING TAB REPAIR. NOTE THAT I CUT INTO THE METAL A1/4" X 1/4" SQUARE. THE PURPOSE OFTHIS IS TO GIVE THE NEW TAB SOMETHING TO HOLD ONTO. IF I HAD JUST WELDED ONTO THE EDGE, THE TAB WOULD BREAK OFF THE FIRST TIME IT GETS BENT.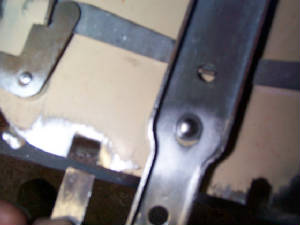 HERE, THE NEW TABS ARE INSTALLED.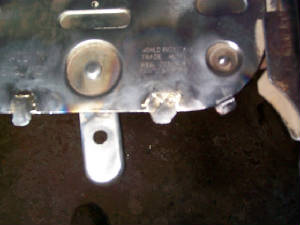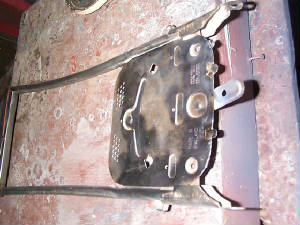 SEAT WITH PAINT REMOVED.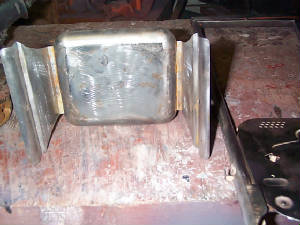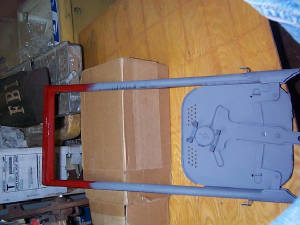 AFTER SANDING THE PRIMERED PARTS WITH 400 GRIT WET/DRY SANDPAPER I SPRAYED THE RED PAINT WHERE IT WAS REQUIRED.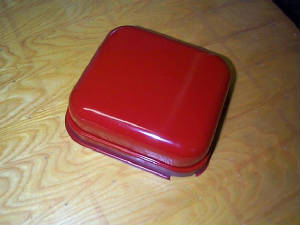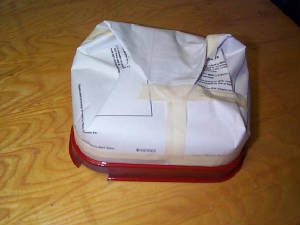 WHEN THE RED HAS DRIED OVERNIGHT , MASK OFF THE RED PARTS IN PREPERATION TO SPRAY THE CREAM COLOR.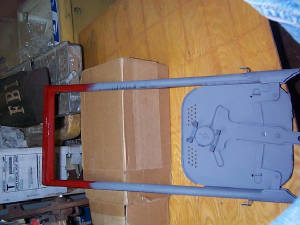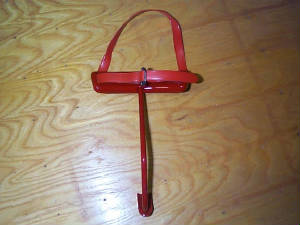 HERES ALL OF THE PARTS READY TO ASSEMBLE