THESE SNAILS ARE ONE OF MY FAVORITE MOBO TOYS. THEY ARE FAIRLY HARD TO FIND AND WILL FETCH A HIGH PRICE WHEN IN GOOD CONDITION. THIS PARTICULAR UNIT WAS PURCHASED FROM THE ORIGINAL OWNER. IT HAS ONLY A FEW MINOR DINGS BUT HAS A BENT FRAME WHICH CAUSES IT TO LEAN TO THE RIGHT. THE FIRST THING TO DO IS GET A SERIES OF PICTURES.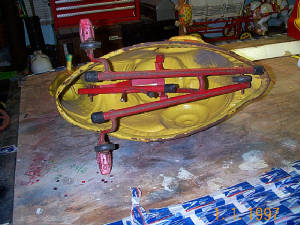 LOOKING AT THE UNDERSIDE IT IS DIFFICULT TO TELL WHY THERE IS SUCH A RADICAL LEAN. ALL OF THE BARS APPEAR TO BE STRAIGHT. BETTER TAKE IT APART FOR A CLOSER LOOK.
HERE I AM DRILLING OUT THE 4 RIVETS THAT HOLD THE BODY ONTO THE FRAME. ITS IMPORTANT NOT TO USE A BIT THAT IS LARGER THAN THE ORIGINAL HOLE. IN THIS CASE A 3/16" BIT IS THE REQUIRED SIZE.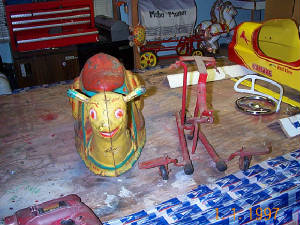 AFTER GETTING THE FRAME OUT IT WAS STILL HARD TO TELL EXACTLY WHAT WAS CAUSING THE LEAN BUT IT WAS CLEAR THAT THE TWO LOWER TUBES WERE NOT ALIGNED. SO, I JUST HELD IT WITH ONE HAND AND SLOWLY BROUGHT THE BARS INTO ALIGNMENT WITH THE OTHER. THESE BEND PRETTY EASY SO I WAS VERY CAREFUL NOT TO GO TO FAR.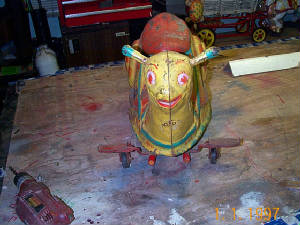 HERE I HAVE REINSTALLED THE BODY TO THE FRAME TO CHECK THE BODY ALIGNMENT. ITS A PERFECT FIT NOW. NEXT STEP WILL BE PAINT REMOVAL. GO TO NEXT PAGE.