NEW PRODUCT: PROPER PREPERATION PRIOR TO PAINTING IS THE KEY TO A GREAT PAINT JOB. IF YOU DON'T HAVE AN AIR COMPRESSOR OR DON'T WANT TO FORK OUT THE COST OF A QUART OF PRIMER, HERE'S PRODUCT FOR YOU. iT'S BEEN AROUND FOR AWHILE AND I HAVE TESTED IT IN A VARIETY OF CIRCUMSTANCES. IT IS DUPLI-COLOR FILLER PRIMER, HIGH BUILD FORMULA. AVAILABLE IN GREY - PART NUMBER FP 101 OR RED - PART NUMBER FP 102. IT IS IN AN 11 OUNCE AEROSOL CAN, SPRAYS GREAT, DRIES IN ABOUT TEN MINUTES AND SANDS VERY EASY WITH WET OR DRY SANDPAPER. THERE IS NO RECOAT WINDOW SO YOU CAN APPLY MORE COATS WITHOUT ANY PAINT REACTION. ONE CAN IS ENOUGH FOR A COMPLETE BRONCO UNLESS THERE ARE HEAVY SCRATCHES THAT REQUIRE SEVERAL COATS TO FILL. PRICE SHOULD BE AROUND $6.00 AT MOST AUTO PARTS STORES.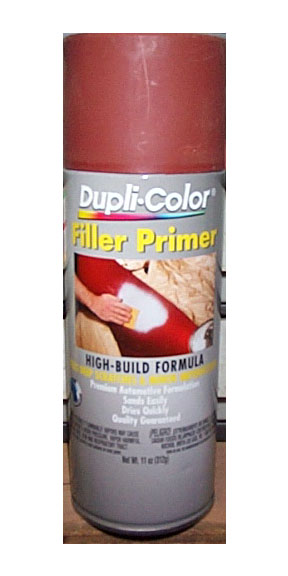 THE FIRST ITEM IS A MUST FOR THOSE WHO ARE GOING TO BE RESTORING JUST ABOUT ANYTHING AND DO NOT HAVE ACCESS TO AN AIR COMPRESSOR. I ALWAYS FOUND MOST SPRAY CAN PRIMERS TO BE LACKING IN MANY AREAS, THE PROBLEMS HAVE BEEN SOLVED WITH THIS NEW PRIMER I FOUND. I USUALLY DON'T PRAISE A PRODUCT BUT I HAVE TO TELL YOU, THIS HAS GOT TO BE THE BEST PRIMER I HAVE FOUND, I EVEN PREFER IT OVER THE PRIMER I SPRAY WITH MY COMPRESSOR. THIS IS MADE BY DUPLI-COLOR (A KRYLON COMPANY) AND THEY HAVE A FEW TYPES THAT LOOK VERY SIMILAR BY THE CAN, SO BE SURE TO READ THE FRONT AND MAKE SURE IT SAYS HIGH BUILD FORMULA. IT COMES IN LIGHT GREY AND RED OXIDE. THE RED OXIDE IS SUPERIOR IN MY OPINION. ONE CAN SHOULD BE ENOUGH TO DO A BRONCO BUT ITS CHEAP ENOUGH YOU MAY WANT TO GET TWO. IT FILLS MOST SCRATCHES BUT NOT ALL. IT'S THE FASTEST AND EASIEST PRIMER TO SAND THAT I HAVE FOUND.
IT CAN BE SANDED WET OR DRY. ONCE IT'S BEEN APPLICATED THE DRY TIME IS LESS THAN 15 MINUTES. THE ONLY DRAWBACK I HAVE FOUND IS THAT UNDER WHITE PAINT IT TENDS TO BLEED THROUGH, BUT AN EXTRA COAT OF WHITE QUICKLY TAKES CARE OF THAT. IT SHOULD BE AVAILABLE AT MOST AUTOPARTS STORES AND RUNS IN THE PRICE RANGE OF $4.00 - $6.00 FOR AN 11 OZ. CAN. IF YOUR PARTS STORE DOESN'T HAVE IT I'M SURE THEY WILL ORDER IT FOR YOU. IF NOT EMAIL ME AND I'LL SELL YOU SOME.