SET UP YOUR BRONCO ON YOUR RACK SOMEWHERE THAT YOU WILL HAVE LOTS OF VENTILATION AND PLENTY OF FRESH AIR. USE A RESPIRATOR IF NECCESSARY AND IF YOU START GETTING HIGH FROM THE FUMES TAKE A BREAK. IF YOU ARE OUTSIDE, STAY AWAY FROM AREAS THAT GET WINDY OR HAVE A LOT OF FOOT TRAFFIC. MAKE SURE TO HAVE PLENTY OF LIGHT. COVER NEARBY OBJECTS WITH NEWSPAPER OR DROP CLOTHS TO PREVENT THEM FROM BEING COVERED WITH OVERSPRAY. IF YOU ARE USING A COMPRESSOR THEN YOU PROBABLY ALREADY KNOW WHAT YOU ARE DOING, IF YOU ARE SPRAY CANNING IT, FOLLOW ALONG . SHAKE THE CAN, TURN IT UPSIDE DOWN AND SHAKE IT FOR A FULL TWO MINUTES, YOU WANT TO BE SURE IT IS MIXED THOROUGHLY. MAKE A TEST SPRAY ONTO A PIECE OF NEWSPAPER OR WOOD OR WHATEVER SO YOU CLEAR THE PREVIOUS USERS DRIED UP OVERSPRAY FROM THE NOZZLE AND PICK UP TUBE. MAKE A COUPLE OF TEST PATTERNS SO YOU GET THE FEEL OF THE SPRAY. ITS BEST TO KEEP THE NOZZLE AROUND 8 TO 10 INCHES FROM THE OBJECTS SURFACE. SPRAY FROM LEFT TO RIGHT IN ONE PASS. RELEASE NOZZLE AT THE END OF EACH PASS SO YOU DON'T GET BUILD UP ON EACH END FROM GOING BACK AND FORTH.
MAKE EACH PASS OVERLAP THE PREVIOUS, KEEP YOUR EYES OPEN AND WATCH FOR TOO MUCH BUILD UP, IF YOU SEE ANY SAGS OR RUNS STARTING, STOP RIGHT THERE. TAKE YOUR CAN AND GO PRACTICE ON SOMETHING ELSE UNTIL YOU GET USED TO IT. AFTER THE SAGS OR RUNS HAVE CURED, USUALLY A COUPLE OF HOURS WILL DO IT, GET SOME 400 SANDPAPER AND WET SAND UNTIL THE ARE GONE. DRY IT OFF AND CONTINUE APPLYING YOU BASE COAT. I RECCOMEND
DOING THE INSIDE OF THE BODY FIRST. NOW, I CAN'T EMPHASIZE THIS ENOUGH, TAKE MY ADVICE AND USE ONLY KRYLON PAINT, IT MAY COST A DOLLAR OR SO MORE THAN OTHER BRANDS BUT IM TELLING YOU, THERE IS NO COMPARRISON. MOST OTHER ENAMELS HAVE A LIMITED TIME FOR RECOATING AND IF YOU DONT COMPLY THE PAINT WILL WRINKLE UP AND YOU WILL HAVE A BIG MESS ON YOUR HANDS, NOT TO MENTION THE POOR BRONCO. KRYLON CAN BE RECOATED ANYTIME, DRIES TO TOUCH IN 12 MINUTES AND HAS SUPERIOR COLOR AND GLOSS RETENTION PROPERTIES. TO COMPLETELY COVER THE BRONCO BODY IN AND OUT YOU SHOULD HAVE USED JUST UNDER TWO FULL CANS. SET THE BODY ASIDE FOR 24 HOURS AND WHILE YOU ARE WAITING SPRAY THE LEGS IN THE SAME MANNER AND SET THEM ASIDE.
NEXT STEP WILL BE TO MASK THE BODY.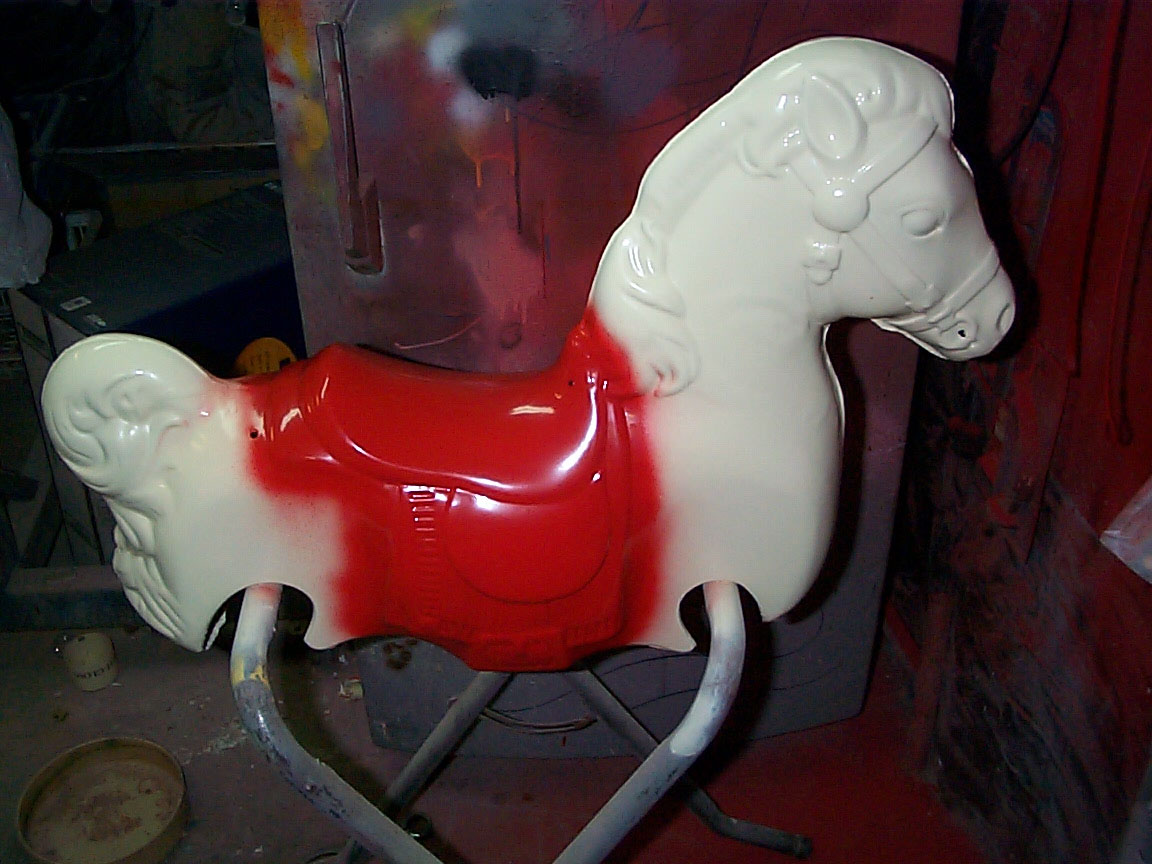 OK, NOW YOU HAVE THE BODY IN YOUR BASE COLOR WHITE, IT'S TIME TO BREAK OUT THE RED. NO NEED TO MASK AT THE MOMENT, YOU WILL BE MASKING THE SADDLE, NOT THE HORSE. SO, GO AHEAD AND SPRAY THE SADDLE AND THE SADDLE BLANKET, MAKE SURE THAT YOU HIT THE UNDERSIDE EDGES ALSO. TRY NOT TO GET TOO MUCH OVERSPRAY ON THE REST OF THE HORSE BECAUSE THE MORE OVERSPRAY THERE IS, THE MORE OF IT YOU WILL HAVE TO COVER LATER ON. SEE THE PICTURES, YOU SHOULD BE LOOKING LIKE THESE.
UPDATE: I HAVE FOUND IT TO BE MUCH MORE EFFICIENT TO SPRAY THE SADDLE AREA FIRST INCLUDING THE DETAIL COLORS. PAINT THE WHITE AFTER MASKING THE SADDLE AREA.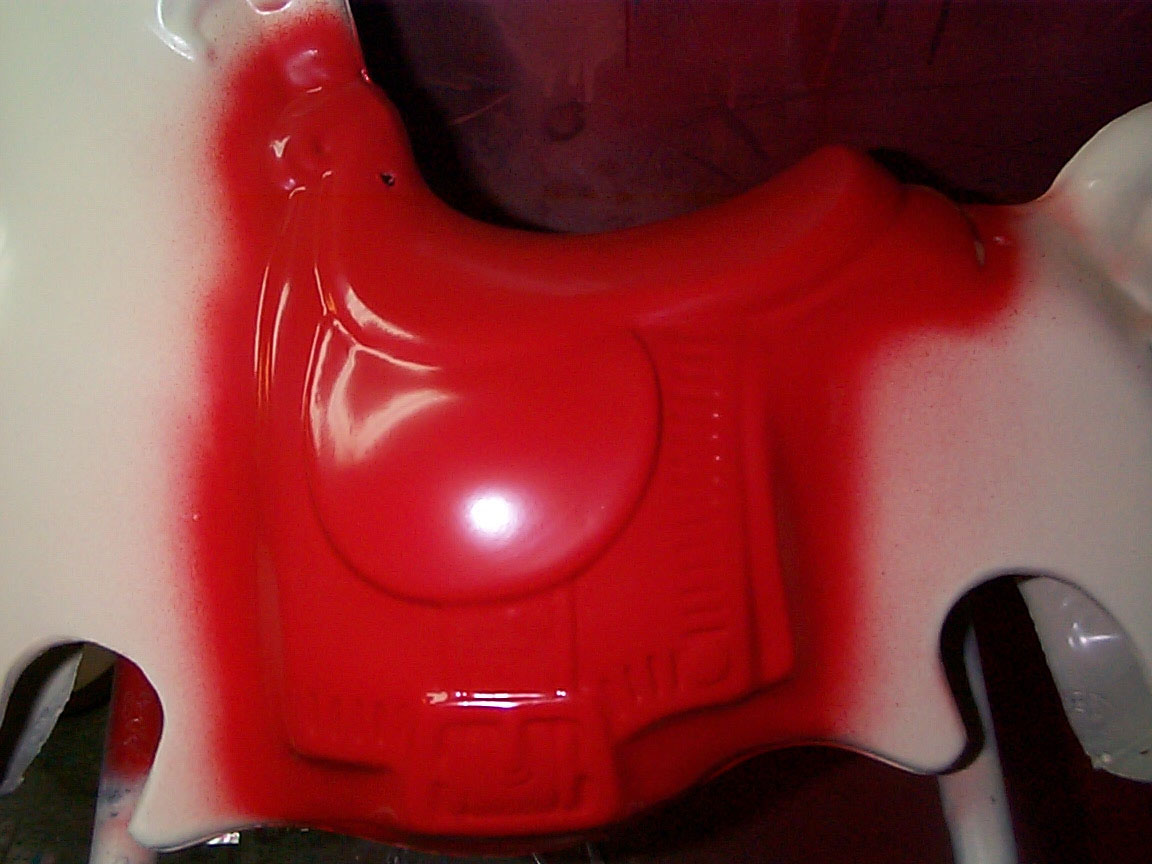 PUT THE PAINT ON IN 3 OR 4 LIGHT COATS TO AVOID RUNS, IF IT GOES ON A LITTLE DRY, DONT WORRY ABOUT IT, CLEAR COAT LATER WILL SMOOTH IT OUT. SET THIS ASIDE FOR 24 HOURS TO CURE. WHILE YOU ARE WAITING, GO CUT OUT THE STENCILS THAT YOU HAVE PRINTED FROM THE STENCIL PAGE.