WELL, LET'S DISSECT HIM AND SEE WHAT MAKES HIM DIFFERENT!!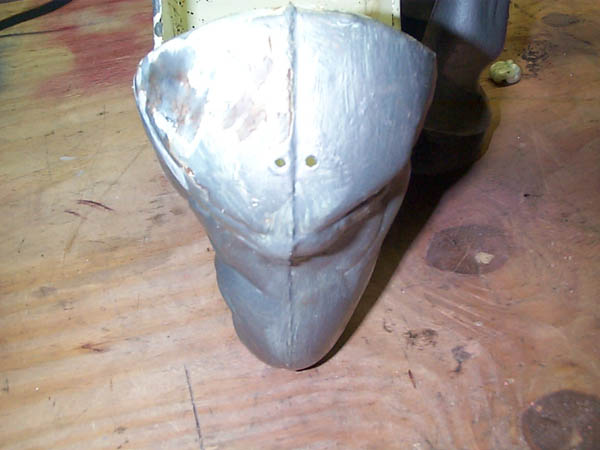 UPDATE: APPARENTLY THESE TWO HOLES WERE USED TO HANG THE BRONCO DURUING THE PAINTING PROCESS.
AFTER REMOVING THE BODY FROM THE CHASSIS I NOTICED THAT THE TWO HOLES ON THE UNDERSIDE OF THE TAIL WERE IN LINE NEXT TO EACH OTHER. ALL OTHER BRONCOS HAVE THE HOLES DIAGONALLY STAGERED. SOME PEOPLE SAY THESE HOLES WERE FOR A PUSH BAR.
NOW, THIS IS NOT UNIQUE TO THE FIRST BRONCOS, BUT I HAVEN'T FOUND MANY NEWER ONES THAT ARE LIKE THIS. THE BOTTOM OF THE HOOVES ARE BENT AT 90 DEGREES WHILE MOST OTHERS ARE 180. WHAT IS UNUSUAL, ALTHOUGH THIS PICTURE DOES'T SHOW IT, IS THE ATTACHMENT OF THE AXLE. RATHER THAN THE PINCH CRIMP METHOD, THE AXLE IS KEPT BY A TINNERMAN NUT.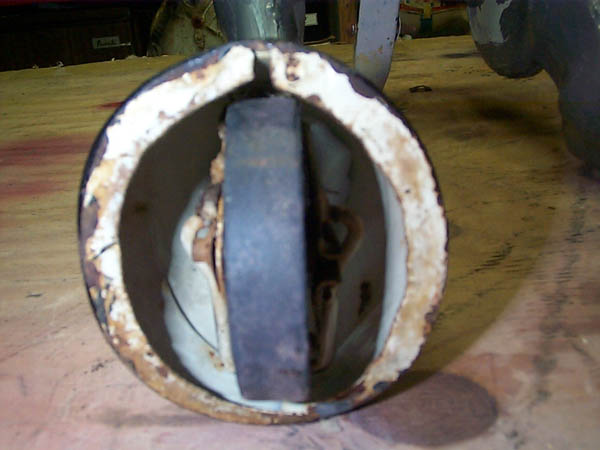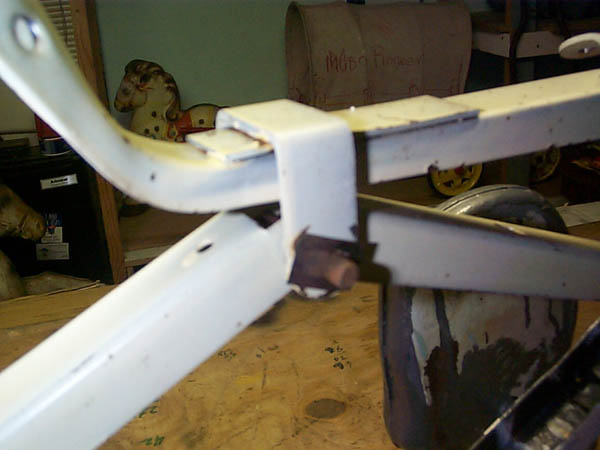 HERE IS ANOTHER TINNERMAN NUT IN LIEU OF THE PINCH CRIMP METHOD, THIS TIME ON THE SUSPENSION. ALSO NOTE THE ADDITIONAL BRACKET HOLDING THE UNIT TOGETHER.
JUST ORDINARY FOOTRESTS? LOOK AGAIN.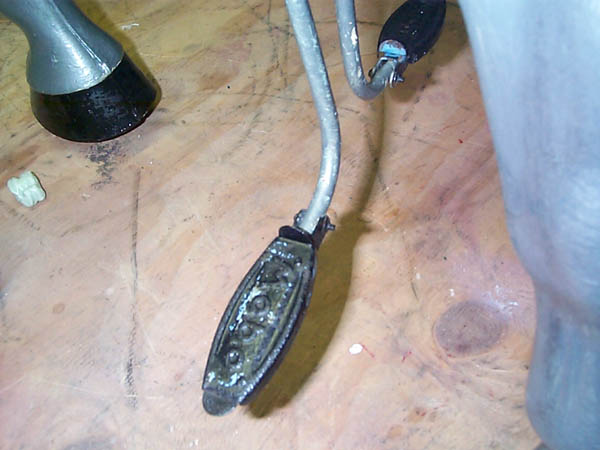 NOW THEY LOOK DIFFERENT! THEY FOLD UP! USED ONLY ON A SELECT AMOUNT OF THE VERY FIRST BRONCOS.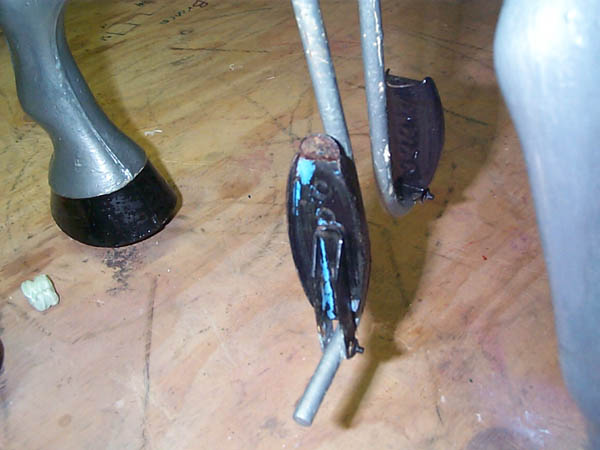 HERE'S WHAT SEPERATES THE EARLY BRONCOS FROM THE FIRST BRONCO'S. THE LEGS AND FOOTRESTS ARE NOT REMOVABLE FROM THE SUSPENSION. IM NOT SURE HOW LONG THIS WENT ON, BUT MY GUESS WOULD BE IT WAS CHANGED WITHIN THE FIRST YEAR.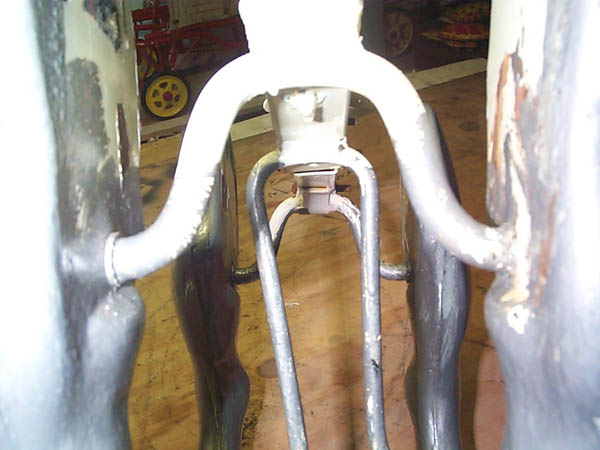 HERE IS ANOTHER SIGN OF AN EARLY UNIT, A HOLE IN THE RIGHT FRONT LEG. IT'S PUPOSE? YOUR GUESS IS AS GOOD AS MINE. UPDATE: THE HOLE HAS A VERY IMPORTANT PURPOSE, IT IS THERE SO THE PIN THAT HOLDS THE FORWARD PART OF THE SUSPENSION TOGETHER CAN BE REMOVED. I HAVE COME ACROSS A FEW MORE OF THESE FIRST BRONCOS SINCE THIS ONE AND HAVE FOUND WHAT MUST BE ONE OF THE VERY FIRST UNITS, THIS HOLE IN THE FRONT RIGHT LEG WAS DOUBLE STAMPED, MEANING THAT THEY HADN'T FIGURED OUT THE EXACT PLACEMENT OF THE HOLE OR AT LEAST HAD NOT SET THE PUNCH PRESS UP CORRECTLY.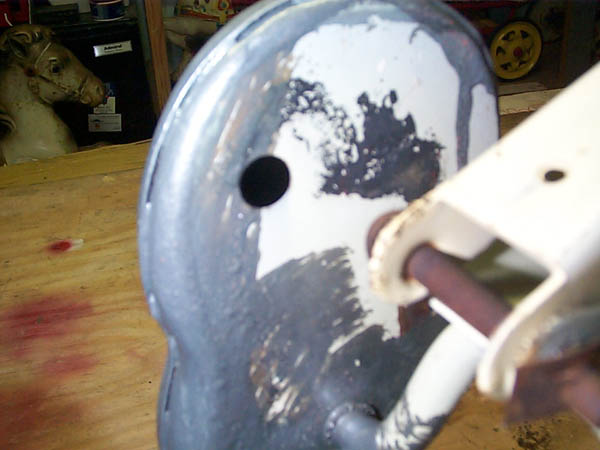 HERE ARE THE AFTER RESTORATION PICTURES.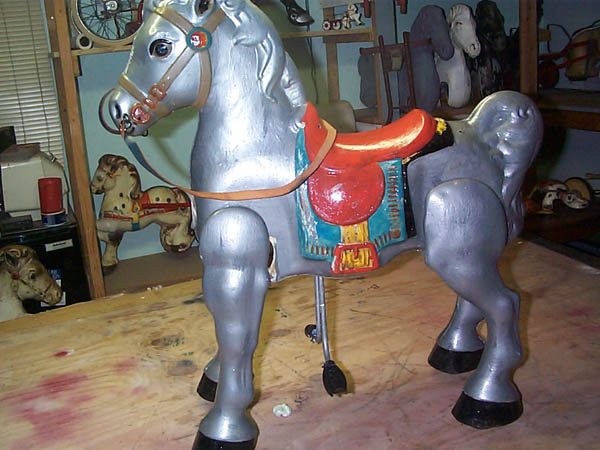 HERE IS THE LOWER PORTION AFTER PAINTING. NOTE THAT THE FOOTRESTS ARE BLUE RATHER THAN THE NORMAL RED.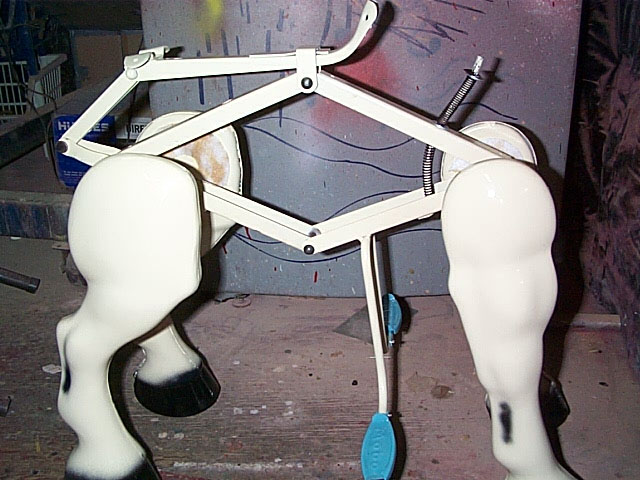 AS SOON AS THEY MADE THE FOOTREST ASSEMBLY REMOVABLE, THE COLOR WAS CHANGED TO RED.