WITH THE NEEDLE NOSE PLIERS, REMOVE THE AXLE AND WHEEL ASSEMBLIES, THE AXLES PULL RIGHT OUT, NO MODIFICATION NECCESSARY. THEN REMOVE THE "BRAKES" IF EQUIPPED. THE NEWER UNITS DON'T HAVE THIS FEATURE.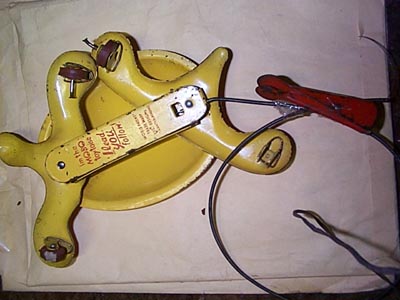 AFTER YOU HAVE THE PARTS OFF SAND THE UNDERSIDE OF THE TOYTOISE WITH 400 GRIT WET. TO SAVE ON PAPER CUT THE SHEET IN HALF SO YOU HAVE TWO 8.5 X 5.5 SHEETS. THEN FOLD ONE HALF INTO THIRDS AND TEAR OR CUT SO YOU NOW HAVE ONE 8.5 X 5.5 AND THREE 5.5 X ABOUT 2.75. THEN FOLD ONE OF THOSE INTO THIRDS AND IT IS NOW THE PERFECT SIZE FOR SANDING SMALL AREAS. THE UNDERSIDES ARE USUALLY IN PRETTY GOOD SHAPE SO YOU MAINLY JUST WANT TO DEGLOSS THE ORIGINAL PAINT.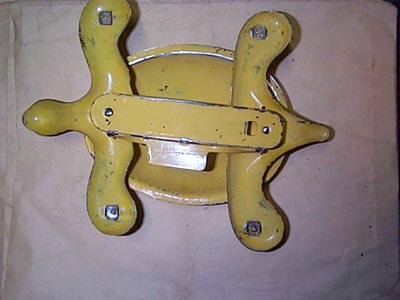 SAND THE TOP PARTS WITH 220 WET UNLESS IT IS NICK FREE AND IN VERY GOOD CONDITION, IN WHICH CASE USE 400. SAND ALL THE NICKS AND CHIPS TO A FEATHER EDGE. YOU WILL PROBABLY END UP SANDING THE WHOLE TOP SHELL TO THE METAL. IT SANDS PRETTY EASY.
PRIME THE UNDERSIDE USING A SANDABLE PRIMER.
WHEN THE UNDERSIDE IS DRY, PRIME THE TOPSIDE. WHEN IT IS DRY TAKE A CLOSE LOOK TO SEE THAT THERE HAS BEEN NO LIFTING OF THE ORIGINAL PAINT. IF EVERYTHING LOOKS GOOD WET SAND THE TOP AND UNDERSIDES WITH 400 GRIT WET.
TOYTOISE SHOULD NOW LOOK LIKE THIS. LOOK CLOSE AGAIN TO SEE THAT ANY NICKS OR CHIPS HAVE BEEN FILLED. EITHER WAY, PUT ANOTHER LIGHT COAT OF PRIMER ON. GO TO NEXT PAGE>>>>>