PAINT THE MAIN BODY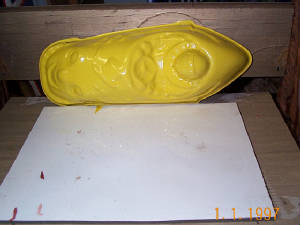 WHEN THE PRIMER IS DRY GIVE THE KAR A QUICK SANDING WITH A SCOTCH-BRITE PAD. WASH IT AND LET IT DRY COMPLETELY.
PAINT THE UNDERSIDE FIRST AND LET IT DRY FOR AN HOUR OR TWO. NOW PAINT THE TOP SIDE.
LET THE YELLOW DRY OVERNIGHT THEN MASK IT OFF FOR THE WHITE. WHEN MAKING, JUST FOLLOW THE LINES AND IT SHOULD LOOK LIKE THIS PICTURE.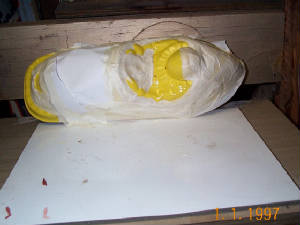 HERE'S ANOTHER PROJECTS ARTICLE THAT I NEVER FINISHED. I WONDER HOW MANY THERE ARE? WHEN I FIND THE MISSING PICTURES, I'LL FINISH THIS OFF.