THIS IS WHAT MOST OF YOU WILL BE STARTING WITH, PAINT SCRATCHES, MISSING EARS, ETC.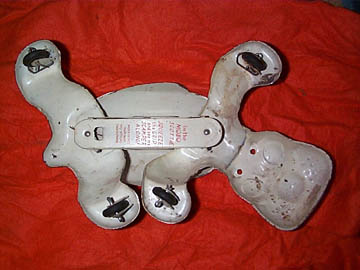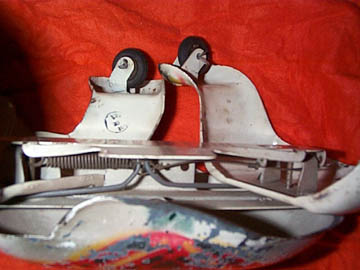 IF YOU CABLE IS BROKEN OR MISSING, CAREFULLY BEND THE SIDE COVER OPEN TO ACCESS THE ATTACHMENT POINT. IF YOUR CABLE IS INTACT I STRONGLY SUGGEST THAT YOU LEAVE IT BE.
USE NEEDLE NOSE PLIERS AND REMOVE THE BROKEN CABLE. DEPENDING ON WHO ASSEMBLED THIS ORIGINALLY, YOU MAY NEED TO REMOVE THE SPRING ALSO. KEEP IN MIND THAT THE LESS YOU REMOVE THE EASIER IT WILL BE TO PUT BACK TOGETHER AND THAT IT COMES APART ALOT EASIER THAN IT GOES BACK TOGETHER.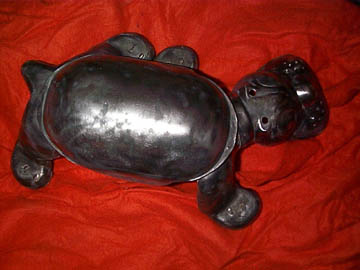 REMOVE THE OLD PAINT. I DON'T RECOMEND PAINT STRIPPER AS IT ALWAYS SEEMS TO LEAVE A RESIDUE BEHIND THAT SEVERELY HINDERS THE CURING OF NEW PAINT. I SUGGEST HAND SANDING OR AS I DID, SOAK IT IN A BOWL OF HEAVY DUTY PURPLE DEGREASER OVERNIGHT. RINSE IT THOROUGHLY.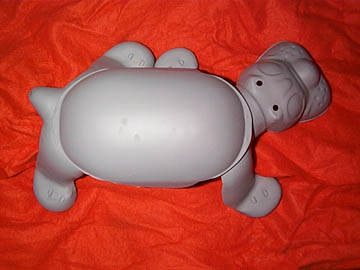 SPRAY SEVERAL LIGHT COATS OF SANDABLE PRIMER AND SET IT ASIDE FOR A COUPLE OF HOURS TO DRY.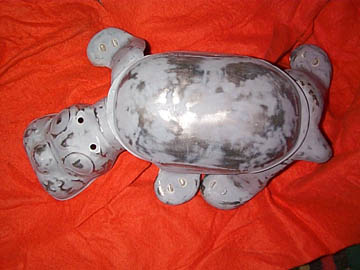 WET SAND WITH 400 GRIT OR FINER WET/DRY SANDPAPER UNTIL YOU GET A SMOOTH, EVEN SURFACE.