FIRST THING BEFORE THE TEMPLATES I HAD TO MATCH THE TEAL PAINT, IN THIS PICTURE THE FINAL MATCH HAS BEEN SPRAYED ON BOTH SIDES OF THE CENTER STRIPE, DOES IT LOOK LIKE A MATCH?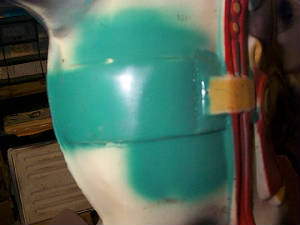 TO PRINT ANY OF THE FOLLOWING TEMPLATES IN THE CORRECT SIZE, MOVE YOUR MOUSE POINTER OVER THE PICTURE AND RIGHT CLICK IT.ON THE SCREEN THAT APPEARS CLICK SAVE AS, THEN CLICK ON THE DIRECTORY OR FILE YOU WANT IT AND CLICK SAVE. YOU CAN THEN PRINT IT FROM THAT LOCATION.
THESE ARE THE HEAD TEMPLATES, TO PRINT THIS SET IN THE CORRECT SIZE, RIGHT CLICK ON ANY PICTURE, NEXT CLICK ON SAVE AS OR SAVE TO, WHERE EVER YOU WANT TO STORE IT, THEN CLICK ON SAVE. TO PRINT, OPEN THE FOLDER WHERE YOU HAVE IT STORED AND CLICK PRINT. THIS WILL PRINT OUT ON 8.5" X 11" PAPER.