HERE'S THE UNIT THAT IS GETTING RESTORED. FIRST THING TO DO IS TAKE PICTURES FROM ALL SIDES AND UNDERNEATH. THIS IS IMPORTANT IN CASE YOU CAN'T RECALL HOW PARTS FIT WHEN REASSEMBLING.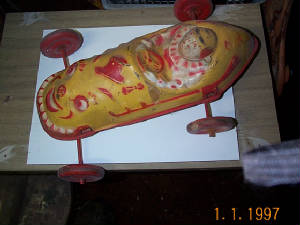 TO REMOVE THE AXLES, TAKE A SCREWDRIVER AND CAREFULLY PRY ONE SIDE OF THE BODY OUTWARD WHILE ALSO APPLYING UPWARD PRESSURE ON THE AXLE.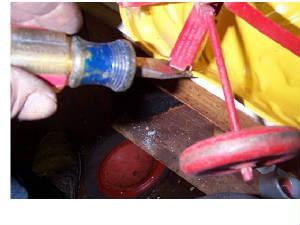 AFTER AXLE ASSEMBLY IS REMOVED, SEPERATE THE TWO AXLES FROM THE CONNECTING LINK BY DISENGAGING THE END HOOKS. YOU MAY HAVE TO SPREAD THE HOOK A SMALL AMOUNT IN ORDER TO REMOVE IT FROM THE HOLE.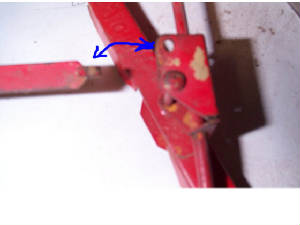 TO REMOVE THE WHEELS, FILE THE CRIMPS OFF OF THE AXLE ENDS. THE WHEELS AND WASHERS SHOULD SLIDE RIGHT OFF.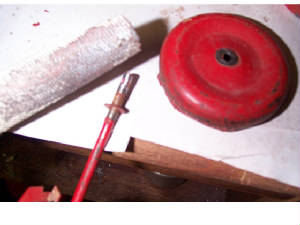 ON THIS PARTICULAR ITEM, THE AXLE HOLES ON THE INNER HALF OF THE WHEELS WERE ENLARGED TO THE POINT THAT THEY HAD TO BE REPAIRED. THE TWO HALVES SEPERATE EASILY BY CAREFULLY INSERTING A THIN BLADE SCREWDRIVER AT THE SEEM AND PRYING APART. I'M GOING TO BRAZE A SMALL WASHER TO THE INSIDE OF THE WHEEL FOR AN UNDETECTABLE REPAIR.
HERE'S A VERY GOOD TIP: AVOID SEPERATING THE WHEEL HALVES UNLESS IT IS THE ONLY WAY TO MAKE REPAIR. THEY ARE VERY DIFFICULT TO PUT BACK TOGETHER WITHOUT CAUSING MORE DAMAGE.