AFTER DECIDING THAT I SHOULD REMOVE THE ORIGINAL PAINT, I SPRAYED HIM WITH DEGREASER SEVERAL TIMES AND LET HIM SIT OVERNIGHT. IN THE MORNING I PUT A NEW WIRE WHEEL ON MY 4.5 INCH ANGLE GRINDER AND WENT AT IT. THE PAINT WAS A BIT STUBORN IN A FEW PLACES BUT EVENTUALLY IT WAS ALL REMOVED. APPROXIMATE TIME TO REMOVE PAINT WAS 1 HOUR. AFTER THE PAINT WAS REMOVED I BRUSHED ON SOME METAL PREP TO REMOVE ANY MINOR SURFACE RUST THAT WAS LEFT AND THEN RINSED WITH WATER. I USED A LOW HEAT HAIR DRYER TO DRY HIM IN ORDER TO KEEP RUST FROM STARTING. TIME FOR THIS WAS 15 MINUTES. TOMORROW I'LL DO ANY MINOR BODYWORK AND GIVE HIM A COAT OF PRIMER. TOTAL TIME TODAY IS 1 HOUR 15 MINUTES.
TOTAL TIME SO FAR: 1 HOUR 45 MINUTES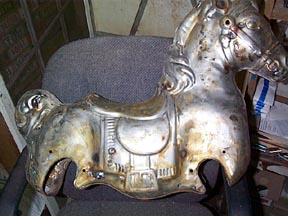 AFTER DOING MINOR BODYWORK AND PRIMERING I SANDED WITH 600 GRIT WET DRY- TIME FOR THIS WAS 3 HOURS.
NEXT I SPRAYED THE SADDLE RED AND THE BRIDLE COPPER. ANOTHER 20 MINUTES.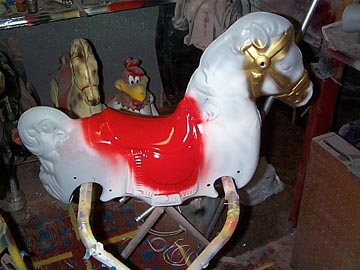 AFTER THE PAINT CURES, 24 HOURS, MASK THE SADDLE PERIMETER WITH 3/8" BLUE TAPE.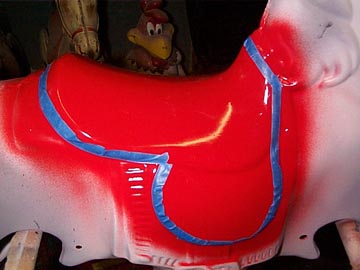 NOW MASK THE BRIDLE WITH 1/2" BLUE TAPE.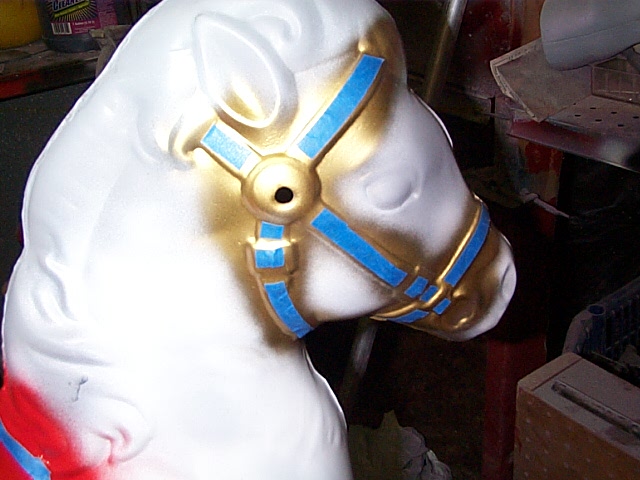 FINISH MASKING THE SADDLE THEN SPRAY THE COPPER SADDLE BLANKET.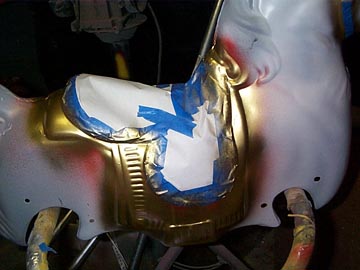 BE SURE TO TILT THE HORSE SO THAT THE UNDERSIDE GETS PAINTED, IF YOU DON'T, THIS IS WHAT YOU WILL END UP WITH. ANOTHER HOUR.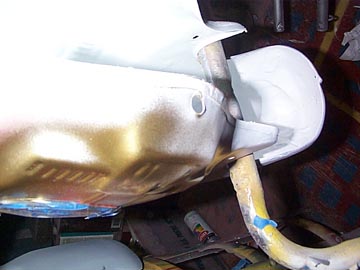 WAIT 24 HOURS AND MASK THE SADDLE BLANKET, KEEP THE SADDLE MASKING ON.