AFTER GRINDING THE HIGH SPOTS ( I USED MY TRUSTY 4.5 INCH ANGLE GRINDER WITH A 36 GRIT DISC, BUT A FILE WILL WORK IN A PINCH) I GAVE THE SNAIL ANOTHER COAT OF PRIMER.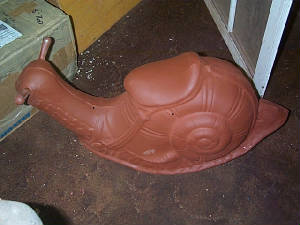 THOSE 36 GRIT DISCS TEND TO LEAVE SOME NASTY SCRATCHES BEHIND THAT PRIMER JUST WONT FILL. UNLESS YOU PUT A LOT OF COATS OF PRIMER ON. SO, RATHER THAN USING UP A LOT OF PRIMER I DECIDED TO USE RED SPOT PUTTY, ALSO REFERED TO AS GLAZING PUTTY. IT'S LIKE PRIMER IN A TUBE EXCEPT THICKER AND IT CONTAINS A LOT MORE TALC. IT SANDS VERY EASY WET OR DRY. NOT RECOMMENDED FOR FILLING DINGS BECAUSE IT WILL SHRINK. I WILL OCCASIONALY USE A POLYESTER RESIN PUTTY THAT HAS TO BE MIXED WITH A HARDNER BUT NOT VERY OFTEN. RED PUTTY IT IS IN THIS CASE.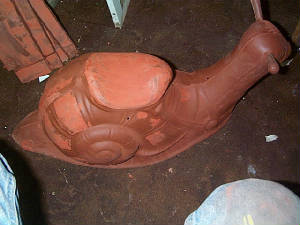 I SANDED THE SPOT PUTTY WITH 220 WET/DRY PAPER, WET. WHEN I WAS SATISFIED WITH THAT I CONTINUED SANDING THE ENTIRE SNAIL TOP SIDE AND UNDERSIDE WITH 400 WET/DRY, WET. I GAVE IT A THOROUGH SANDING, WATCHING OUT FOR ANY NICKS, SCRATCHES OR DINGS I MAY HAVE MISSED THE FIRST TIME AROUND. LOOKS LIKE I GOT LUCKY AND GOT THEM ALL. AFTER THE 400 SANDING THERE WERE STILL A LOT OF DEPRESSIONS THAT GOT MISSED SO THE TRICK NOW IS TO USE A SCOTCH PAD. THERE ARE VARIOUS GRITS OF PADS THAT ARE SOLD AT INFLATED PRICES BY MOST PAINT SUPPLIERS BUT I TEND TO LIKE USING THE ONES WITH A SPONGE THAT ARE AVAILABLE AT THE GROCERY STORE. THEY WORK AT LEAST AS WELL AND ARE A LOT LESS EXPENSIVE. I MIX UP A LITTLE SOAP AND WATER, JUST LIKE I WAS GOING TO WASH MY CAR, AND GO OVER THE SNAIL BODY, TAKING CARE TO GET IN ALL THE SPOTS THAT PAPER CAN'T GET TO. USING THE GRIT SIDE OF COURSE. SNAIL WILL LOOK SEMI SHINY WHEN IT DRIES.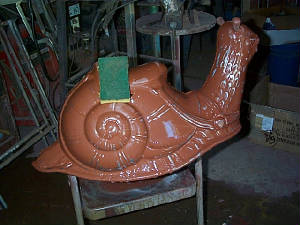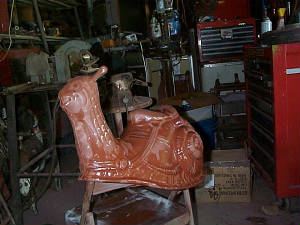 THE WET SNAIL DRIED VERY FAST DUE TO THE 100 DEGREE PLUS WEATHER SO IT WASN'T LONG UNTIL I PUT ON THE FINAL PRIMER. I USED A LIGHT GREY SPRAY CAN PRIMER THIS TIME RATHER THAN SHOOTING IT FROM A GUN. THE REASON FOR THIS IS THAT I FIND THAT SPRAY CANS WILL LEAVE A MUCH NICER SURFACE DUE TO HOW FINE THE SPRAY IS. I USED A SELF ETCHING PRIMER THAT IS NOT SANDABLE, BE VERY CAREFUL NOT TO MAKE ANY ERRORS! I ONLY PRIMED WHERE THERE WERE BARE METAL SPOTS.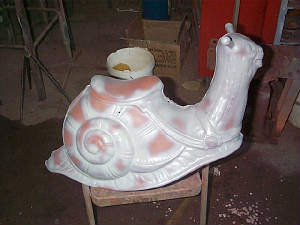 THE GREY PRIMER IS AN ENAMEL AND TOOK A WHILE TO CURE SO I WENT ONTO SOME OTHER PROJECT FOR A FEW HOURS. WHEN I CAME BACK I WIPED THE UNIT DOWN WITH A TACK RAG AND SPRAYED THE UNDERSIDE AND SET IT ASIDE FOR ANOTHER COUPLE OF HOURS.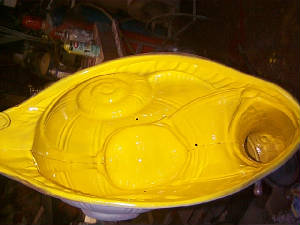 WHEN THE UNDERSIDE WAS SUFFICIENTLY DRY ( AN HOUR OR SO) I SPRAYED THE OUTSIDE WITH 8 LIGHT COATS OF YELLOW. I THEN SET IT ASIDE AND WILL WAIT 24 HOURS BEFORE I START THE DETAIL PAINTING.
GO TO NEXT PAGE.