NEED A FRAME? HERE'S THE MEASUREMENTS AND A FEW TIPS ON MAKING ONE.
I USED A PIECE OF 3/4" ELECTRICAL CONDUIT TO MAKE THE FRAME SHOWN IN THE PICTURES. THE POSITIVE PART WAS THE PRICE, $4.75 FOR 10 FEET. THE NEGATIVE PART WAS THE BENDS ARE A FAIRLY TIGHT RADIUS AND I HAD A HARD TIME KEEPING THE CONDUIT FROM CRIMPING AT THE BENDS. I RECOMEND USING STEEL TUBING.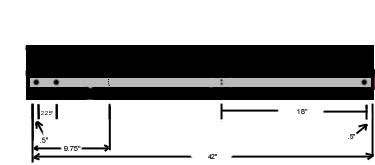 START WITH A PIECE OF 3/4" TUBING THAT HAS BEEN CUT TO 42" LONG. CENTER PUNCH AT THE FOLLOWING POINTS AS SHOWN IN DIAGRAM: MEASURING FROM LEFT END - .5"TO FIRST MARK. FROM FIRST MARK TO SECOND MARK - 2.25".
FROM RIGHT END - .5" TO MARK. DRILL THIS WITH A 1/4" BIT. DON'T DRILL THE OTHERS YET.
MEASURE FROM RIGHT END IN 18" AND MARK WITH A SUITABLE MARKING DEVICE, THIS IS THE CENTER OF THE FIRST BEND. BEND IS 75 DEGREES WITH A 4" RADIUS.
MEASURE IN FROM LEFT END 9.75" AND MARK. THIS IS THE CENTER OF THE SECOND BEND. BEND IS 30 DEGREES WITH A 4" RADIUS. THE FIRST BEND IS VERTICAL, THE SECOND IS HORIZONTAL AND IS REVERSED . YOU WILL MEED TWO OF EACH.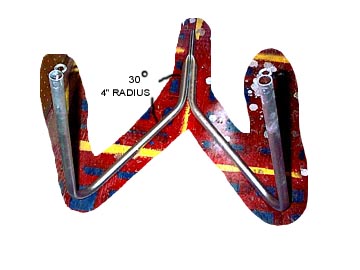 FLATTEN WHAT WAS THE LEFT END AT LEAST 4". DRILL THE TWO PUNCH MARKS WITH A 5/16" BIT. INSTALL A 1/4" EYE IN THE 1/4" HOLE AT THE OTHER END, THIS IS WHERE THE SPRING WILL MOUNT. WHEN YOU HAVE ALL FOUR P[IECES MADE BOLT THEM TOGETHER USING 5/16" X 1/2" BOLTS WITH STOP NUTS. SEE PICTURE, IT ONLY SHOWS TWO PIECES, TAKE THE OTHER TWO AND REVERSE THEM TO MAKE COMPLETE FRAME.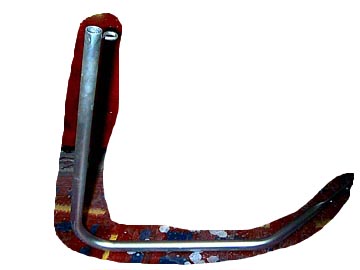 TO BE CONTINUED