THE MANE, TAIL, AND SPOTS.
IT IS RECCOMENDED THAT YOU PRACTICE A BIT IN MAKING FINE FREEHAND LINES, IT WILL GREATLY ENHANCE THE APPEARANCE OF THE MANE AND TAIL. I TEND TO FOLLOW THE DEPRESSED PARTS OF THE METAL WITH THE DARKER PARTS WHERE THE HAIR ROOTS WOULD BE. THEN I GIVE IT A LITE MIST COAT TO COLOR THE ENTIRE AREA. PRACTICE AND YOU WILL GET THE HANG OF IT.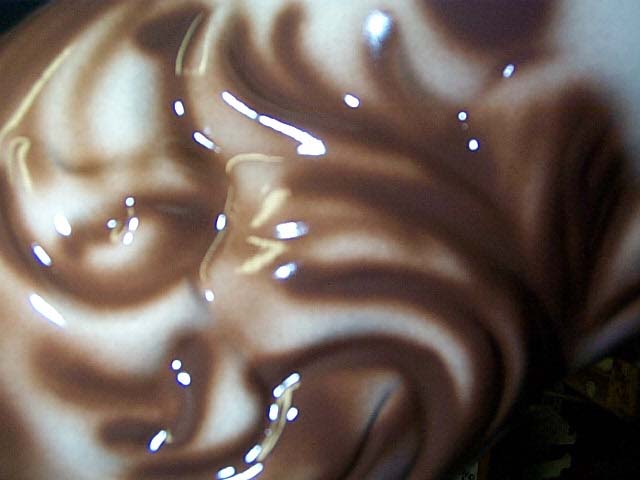 FREEHAND THE SPOTS. USE THE TEMPLATE FOR THE EYEBALLS AND EYELASHES. FREEHAND THE EAR INTERIORS. GET THE RED AND FREEHAND THE NOSTRILS.
REMOVE THE REST OF THE MASKING TAPE AND PAPER. USE ZIPPO FLUID TO CLEAN UP ANY LIGHT OVERSPRAY. ANY HEAVY OVERSPRAY CAN BE COVERED BY USING THE AIRBRUSH. REMEMBER TO MASK ANY EDGES IF TOUCH UP IS REQUIRED.