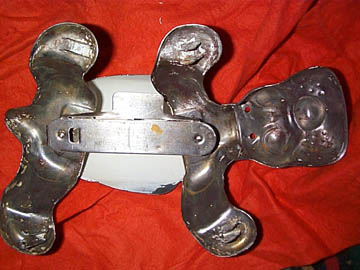 REPEAT ON THE UNDERSIDE.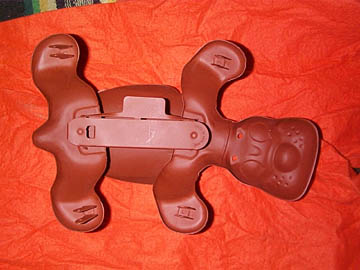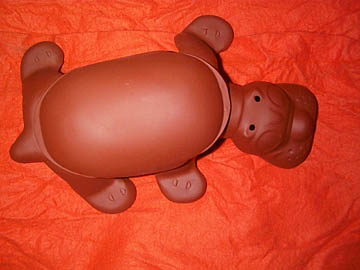 SPRAY A LIGHT FINAL COAT OF PRIMER. NO REASON FOR THE PRIMER COLOR CHANGE, IT'S WHAT I HAD LOADED IN THE GUN AT THE TIME. SET ASIDE TO DRY.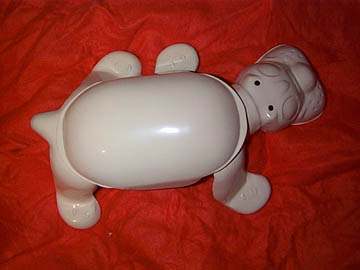 NOW, SPRAY THE BASE COAT AND SET IT ASIDE TO DRY.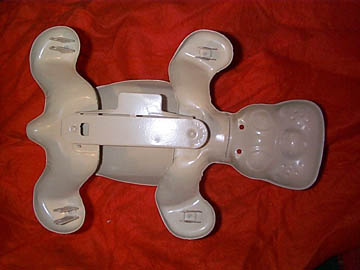 FLIP IT OVER AND BASECOAT THE UNDERSIDE. LET IT DRY.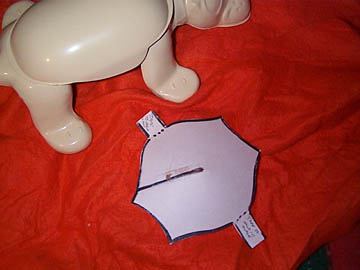 GET THE TEMPLATE AND SQUARE IT UP ON THE BACK AS SHOWN, MASK THE AREA THAT IS NOT COVERED BY THE TEMPLATE WITH A LOW ADHESIVE TAPE SUCH AS 3M BLUE. ONCE AGAIN I MUST STRESS THE IMPORTANCE OF CORRECT ALIGNMENT HERE.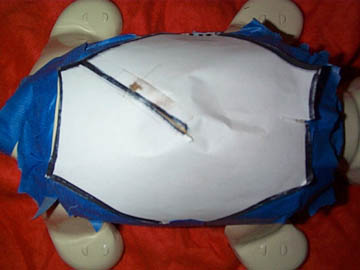 REMOVE THE TEMPLATE AND THIS IS WHAT YOU SHOULD NOW HAVE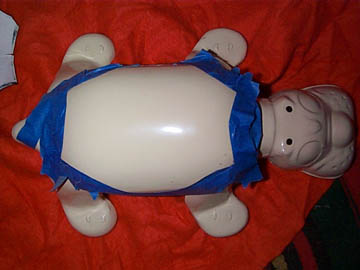 SPRAY THE RED ON THE EXPOSED AREA AS SHOWN.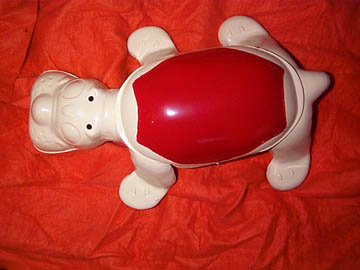 WHAT I HAVE DONE HERE IS TO MAKE SURE THAT THE PATTERNS WILL ALIGN CORRECTLY. I USED 1/8 INCH PINSTRIPING TAPE AND LAID OUT THE BORDERS.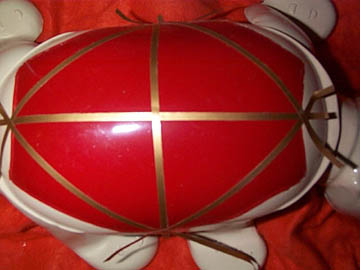 DUE TO THE CURVES ON THE BACK I DECIDED TO APPLY THE YELLOW BARS WITH A PINSTRIPING TOOL RATHER THAN USE A TEMPLATE, ALTHOUGH A TEMPLATE WILL WORK FINE.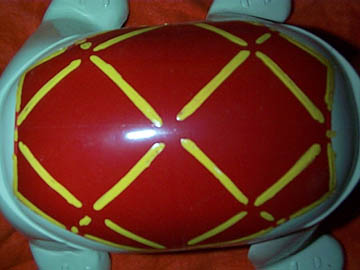 THIS IS THE PINSTRIPING TOOL. AVAILABLE FROM BUGLER IN LOS ANGELES FOR AROUND $100.00. IT TAKES A BIT OF PRACTICE TO BECOME PROFICIENT AT IT.