The California wildfires have destroyed a large amount of ladybug nesting grounds and has shut down access to many others. Ladybugs are in high demand and hard to find to harvest. It takes us 3 to 4 times as long as it did prior to the fires. This is reflected in our temporary price increase. When/if things return to normal, we will lower prices again.Due to the high demand we are also receiving a big increase in sales, we can only process a certain amount of orders each day so there may be a day or two delay on shipping. USPS is also causing delivery delays so what would normally be delivery from the time we receive your order to the time it gets delivered of 3 -5 days may turn out to be 6 - 10 days. If this is not acceptable to you, do not place any orders.Some packages may require a signature for delivery, this keeps the carrier from leaving the package in mailboxes or unattended exposed to the heat of the sun.
Information on this page was updated and is current on 09/07/2020 and will remain so until further notice.
Ladybugs are currently in stock in limited amounts of 1500 only
1500 fresh premium live ladybugs for $40.00
| | |
| --- | --- |
| | Click here to purchase 1500 ladybugs with free shipping |
Praying Mantis Egg Cases are sold out
NEW PRODUCT
We now have a ladybug food supplement available, all organic and contains essential minerals and vitamins that help keep the ladybugs in top condition all year but specially meant for use when the insect pest food supply is getting short. Also contains pollen that is needed for ladybugs to reproduce. We have been field testing this product for over a year with great results. Can also be used as a beneficial insect attractant. This is a complete kit, you only need to add water and mix (can also be served dry). ! kit will feed 1500 ladybugs for more than 6 months.
| | |
| --- | --- |
| | CLICK HERE TO PURCHASE LADYBUG FOOD SUPPLEMENT FOR $7.50 WITH FREE SHIPPING |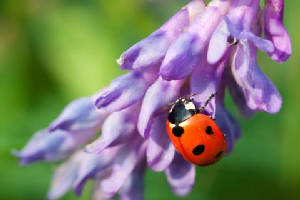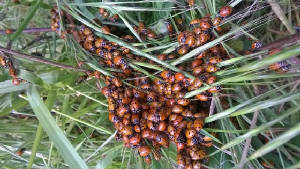 We are a small family and friends based business located in the Sierra mountains of California. We have the best quality, freshest premium ladybugs available. A random sample from each harvest are inspected for to ensure that only the most active, parasite free ladybugs are sold to our customers.
We harvest our ladybugs twice weekly from our own privately owned nesting grounds. We do not refrigerate our bugs as most other sellers do and we never sell any bugs that have been in our custody for more than 7 days. Think Fresh Think High Sierra ladybugs.
Ladybugs are shipped by USPS First Class mail unless noted as free priority mail shipping. We currently ship on Monday, Wednesday, and Friday. Most orders ship within 24 hours or the next shipping day after we receive a cleared payment . Unless other arrangements are made prior to purchase, we only ship to the address provided to us by Pay Pal. It is your responsibility to be sure that your information is kept up to date.
Ladybugs are the safe, natural way for pest control. They effectively control most soft bodied insect pests in both outdoor and indoor gardens.
Buy your ladybugs here, free shipping to the continental USA. We do not ship to Hawaii. Live delivery is guaranteed. See terms and conditions for more details.