UNLESS YOU ARE EQUIPPED WITH THE TOOLS TO REASSEMBLE THE PARTS YOU SEE HERE, DO NOT TAKE IT APART LIKE THIS. YOU CAN GET JUST AS NICE A JOB WITHOUT DISSASSEMBLING IT THIS FAR.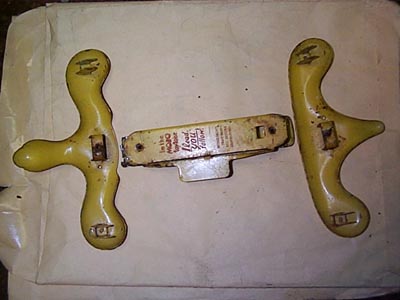 TO REPLACE THE CABLE YOU NEED TO BEND THIS COVER UP SO YOU CAN ACCESS THE SPRING, TIEROD AND CABLE END. BE CAREFUL SO AS NOT TO BREAK IT OFF.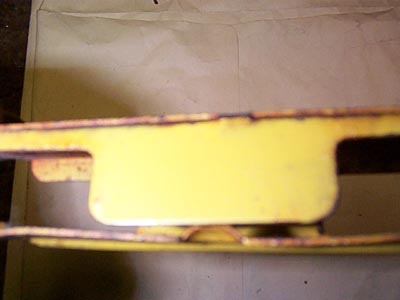 HERE IT IS OPEN. NEEDLE NOSE PLIERS REMOVE THE SPRING AND CABLE FROM THE TIEROD FAIRLY EASILY. LOOK CLOSE AND REMEMBER HOW IT GOES BACK TOGETHER.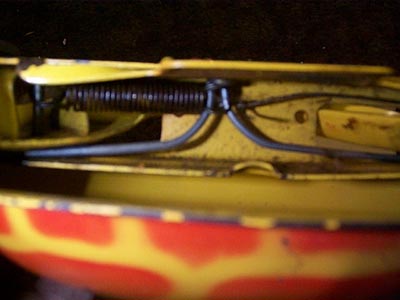 HERE ARE THE PARTS. IT ISN'T NECCESSARY TO REMOVE THE TIEROD AND IF YOU DO YOU MIGHT HAVE PROBLEMS REINSTALLING. THE MAIN THING IS TO REMOVE THE CABLE. GET A BITE ON THE CABLE END WITH THE NEEDLENOSE PLIERS AND IT SHOULD ROLL RIGHT OFF THE TIE ROD, IT MAY ALSO REMOVE THE SPRING, DEPENDING ON WHICH WAS INSTALLED FIRST. IF THE CABLE WAS BROKEN AT THE SQUEEZE HANDLE THEN JUST PULL THE INNER CABLE OUT . IF IT IS STILL ATTACHED TO THE SQUEEZE HANDLE USE WIRE CUTTERS AND CUT THE END LOOP FROM THE CABLE AND REMOVE BOTH OF THE CABLES AS AN ASSEMBLY.